Weddings on the Lake Temiskaming Tour
Do you want the ideal, affordable wedding of your dreams? Whether your heart is set on an elegant, classic, or simple ceremony, the Lake Temiskaming region has everything you need. The area offers various churches, urban and rural photo locations, entertainment options, wedding planners, and caterers, all of which combine to provide the ideal destination wedding.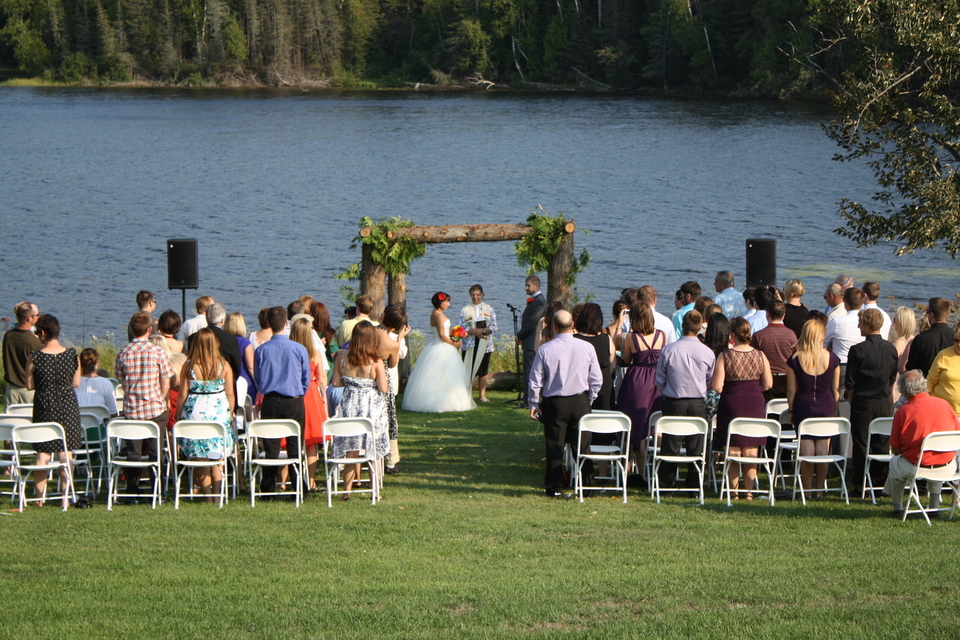 The Clarion Resort Pinewood Park, with its three elegant banquet rooms, is the ideal location for a wedding reception in North Bay. Founders Room provides guests with a cozy and intimate atmosphere. It has fireplaces, a garden, an outdoor patio, as well as a dance floor. The Grand Ballroom seats up to 370 people in a banquet setting that includes sliding glass doors to the patio and a large dance floor to accommodate the whole group! Nearby is a large sports complex and golf course.
Elk Lake Eco Lodge specializes in close-to-nature wedding ceremonies for up to 165 guests. There is also a chef on the premises, who can prepare outstanding meals to make your day extraordinary. More than 20 weddings a year are hosted in their facilities.
Another beautiful natural setting for weddings includes the Canadian Ecology Centre that offers a truly intimate, affordable venue for groups of up to 150 guests. Located in the Samuel de Champlain Provincial Park, about 40 minutes east of North Bay, it offers many stunning options for a beautiful outdoor ceremony, complete with modern accommodations.
For something unusual, consider a country-style wedding with an unbeatable backdrop at the Von Doeler's Ranch in Rutherglen. Choose to have the ceremony outdoors, complete with horses, or indoors in the authentic western-style saloon.
The Presidents' Suites offers a unique wedding package for a destination wedding. You can get married on their beautiful private island on Lake Temiskaming, or in an elegant restored millionaire's home in Haileybury, either of which can accommodate up to 70 guests. The Suites also offer free use of their canoes, boats, and bicycles to their guests. In the morning, delicious homemade muffins are also available.
Below is a list of venues and service providers specializing in weddings.